The end of summer is always a busy time, as communities try to get as much fun and celebration in as possible, before the weather changes and days get much shorter. It's also a very scenic time to explore the byway and enjoy the beautiful colors of fall and the milder weather. Here are some events and activities happening this weekend along the byway. There's more! Check out the chamber of commerce websites for each county to get the comprehensive list. Baker County, Union County, Wallowa County
Music in the Mountains
Halfway, Oregon__The Pine Fest music festival was conceived in 2012 by Eric and Mimi Kauffman as the "Tiniest little festival in the tiniest little town." For seven years, Pine Fest has showcased some of the greatest bands in the northwest, as well as local performers. Named the Best Music Festival in Oregon in 2016, Pine Fest is held in beautiful Halfway, along the Hells Canyon Scenic Byway. Pine fest is filled with great music and amazing vendors selling all manner of food, drink, merchandise, crafts and services. This year's lineup includes Brady Goss, Whiskey Deaf, Rae Gordon, Terry Robb, Chaz Browne Group, Ty Curtis and Jelly Bread. Head on out to Halfway September 6th & 7th and enjoy this amazing show!
Cast Iron Chef Dutch Oven Cook-Off
Baker City, Oregon__Have you ever dreamed of crossing the Oregon Trail? Spending every evening under the stars for dinner? This is your chance to sample the experience! Visit the National Historic Oregon Trail Interpretive Center near Baker City this weekend and scope out the setting. Then, plan to share your Dutch oven cooking skills this October at the Trail Center.
During the Dutch oven cook-off, teams are assigned an open fire cook space at the Trail Center's outdoor wagon encampment. Teams may have up to three members and must include at least one responsible adult member. Contestants won't know what ingredients they must work with until the Master of Ceremonies reveals this information. Using wit, ingenuity and grit, teams must use the ingredients and Dutch ovens provided to produce a delicious meal within two hours. When the allotted cooking time is over, teams must plate their meals for tasting by the judges.
Entries are judged on aroma, appearance, taste, quality of entry, cooking technique, spectator interaction and presentation. Judges will proclaim one team the Cast Iron Chef Champion of 2019, an honor that comes with prizes, and a full year's worth of bragging rights. Additional prizes will be awarded for 2nd place in each category.
Expose Your Art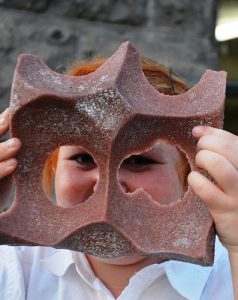 Baker City, Oregon__The Great Salt Lick may have started as a joke, but it raises serious money. Every year dozens of salt lick sculptures, created by livestock and wildlife and untouched by human hands, are auctioned off and the proceeds go to OHSU Parkinson's Center of Oregon. Over the last 12 years, over $150, 000 has been raised. This unique event has drawn entries from all over the country and even Europe. (You may be asking, "What's a salt lick?" It starts as a 50-pound solid block of salt and minerals for livestock, commonly seen throughout the region in pastures and on range lands.)
This year's poem theme is "Expose yourself to Salt Lick." Entries are currently being accepted at Churchill School in Baker City. Replacement blocks can be picked up at Richland Feed and Seed or Oregon Trail Livestock Supply. The deadline for show entries is September 14; entries will be accepted after that, but may not be eligible to win. Get your art in now and get in on this great show! For more information, call Whit at 541-519-2736.
Mules Get the Spotlight, Starting Today!
Enterprise, Oregon__Hells Canyon Mule Days celebrates Mules and Mule Skinners every year, on the weekend after Labor Day. Starting Friday, September 6, the event draws mule owners and spectators intrigued by this long-eared equine from all over the West. This year's Mule Show includes three full days of events, with classes for every age group and skill level. It's a fun family weekend and youngsters enjoy competing and showing their "mulemanship" abilities as much as the older, well-honed contestants. Weekend events include Artisan vendors and exhibitors, Cowboy poetry, a non-motorized parade, pit BBQ dinner, Private Treaty Mule Sale, Saturday night concert, and a Dutch Oven Cook-Off. Kick it up a notch and scoot your boots to the 39th Annual Hells Canyon Mule Days at the Wallowa County Event Center and Fairgrounds in Enterprise, Oregon!­­­ Western attire welcome, but not required!
Ride the Eagle Cap Excursion Train
Elgin, Oregon __ The 2019 fall season gets underway this Saturday, September 7. Reservations can be made by going to www.eaglecaptrainrides.com or by calling Alegre Travel, 541.963.9000. Departing from the depot in Elgin at 10 a.m., for a 3.5-hour ride, the train winds along the scenic shores of the Grande Ronde River, into the ruggedly beautiful and roadless section of the canyon, crosses the bridge at Rondowa and continues a few miles up the Wallowa River, before returning to the depot in Elgin.
The fall schedule is full of fun opportunities to enjoy beautiful autumn colors and scenery during a train ride on the historic "Joseph Branch" railroad.
Among the schedule highlights are an optional photography workshop with Eric Valentine during the September 14 ride; the Wine & Cheese Train, featuring Umapine Creamery and Copper Belt Winery on September 28; a train robbery, performed by mounted bandits on October 5; and the season-ending Season's Bounty, during which regional food and adult beverages are featured. Food and beverages are included during each ride.
"Fall rides are favorites for many of our volunteers and passengers, because of the colorful landscape, plentiful wildlife, autumn lighting and milder weather," said Ed Spaulding, a volunteer engineer and president of the non-profit organization that manages the excursions. "The opportunities for great photos are especially abundant this time of year." An avid photographer, Spaulding's own images are often featured in the train ads, brochures and on the website.
Following is the fall schedule. Go to www.eaglecaptrainrides.com for the full descriptions, prices and to purchase tickets.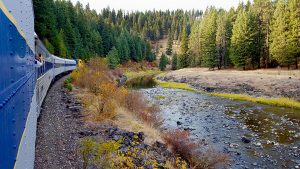 September 7  Two Rivers
September 14  Fall Foliage Photo Workshop
September 28  Wine & Cheese Train (departs at 3 p.m.)
October 5  Gold Rush Bandits Robbery
October 12  Two Rivers Bonus
October 19  Season's Bounty Train (departs at 2 p.m.)
The excursion train operates on Wallowa Union Railroad, formerly known as the historic Joseph Branch. The Friends of the Joseph Branch work under the supervision of the Wallowa Union Railroad Authority, the owner and governing body of the railroad.