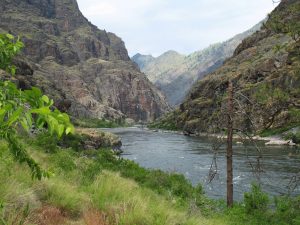 Now is an amazing time to enjoy the scenery along the Hells Canyon Scenic Byway All-American Road. The hillsides are many shades of green and wildflowers are in full bloom. There is still snow on the high peaks, adding depth and character to your photos.
Please take the road slowly and watch for hazards such as speeding vehicles and larger vehicles taking wide corners. Although it is a paved, two-lane highway, it is a backroad through a forested area, and anything can happen at any time. Always use caution and be aware that cell phone service is often not available, so getting assistance can be daunting. Be prepared – fill your tank before setting out (Joseph and Halfway have fuel stations) and carry drinking water, snacks and jackets for changes in the weather. Forest Service campgrounds are open and serviced by mid-June.
To experience the canyon from the bottom looking up at the dramatic basalt cliffs, go to Copperfield and cross the bridge to the Idaho side, then follow the Snake River downstream to the Hells Canyon Dam (24 miles of paved highway) and the Hells Canyon Dam Interpretive Center. This is in the heart of the canyon and the scenery is spectacular. Then backtrack toward Halfway to where the FS Road 39 leads into the forest for the section that offers grand views from the top, looking down into canyon country from the Hells Canyon Overlook. (Don't miss the turn-off to the 2-mile drive to the overlook!)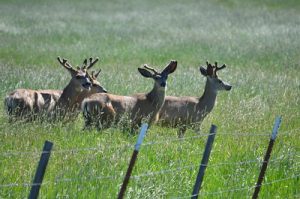 AS mentioned elsewhere, there are highway construction projects in a couple of places along the byway's state highways. In our region, highway officials must cram a lot of work into a few months of good weather. You may have to wait for up to 20 minutes in some situations, or you may just experience a slow-down through sections where one lane is closed during weekdays. Please use caution – we all appreciate the work it takes to keep our highways safe.
One last note: be sure to also watch for livestock along all sections of the byway. Ranchers are turning their cattle out to summer grazing and cattle have the right-of-way in Oregon, so may be on the road in remote places that aren't fenced or where fences haven't yet been fixed after the impacts of winter. Cattle drives take place on byway roads, as well. When encountering a cattle drive, please slow down. Cattle, calves, horses and dogs can be very unpredictable around vehicles, especially when stressed. Honking the horn won't help and can cause an accident. Watch for signals from people tending the livestock, as they will help you navigate through the herd, whether you are traveling with or against the flow of animals. We appreciate your patience and hope you will enjoy this enduring and necessary spectacle of the West.