Wow! It's hot and dry out there. Please use extra caution to protect yourself and others, wildlife, and our precious landscape! Here is the latest from the Wallowa-Whitman National Forest.
NEWS RELEASE – Extreme Fire Danger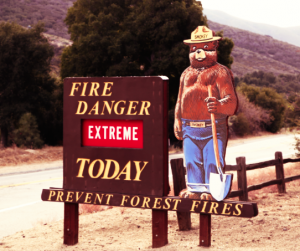 BAKER CITY, Ore. (July 8, 2021) – The Fire Danger Level is now "Extreme" across the Wallowa-Whitman National Forest. At midnight tonight, the Industrial Fire Precaution Level (IFPL) is moving to Level 4 as an additional fire-prevention measure. Public Use Restrictions (PURs) remain in Phase B this weekend on the Wallowa-Whitman. However, persistent wildfire risks may require a move to Phase C PURs in the near future.
IFPL 4 requires a general shutdown of chainsaws, power saws, and all heavy equipment operations. IFPLs also applies to fuelwood permit holders for both commercial and personal uses.
Chainsaw and power saw use is not allowed.
Tractor, skidder, feller-buncher, forwarder, or shovel logging operations are not allowed, nor are mechanized loading operations, hauling of any product or material, cable yarding, or blasting.
Welding, metal cutting, or any other activities that can produce or emit a spark are not allowed.
Please be mindful of current Phase B Public Use Restrictions in addition to IFPL 4 restrictions.
Campfires are not allowed outside of the fire pits provided at developed recreation sites, where all flammable material should be cleared 10 feet from the edge of the pit, and the pit should be free of overhanging material.
Anyone with a campfire must have a tool that can serve as a shovel and at least one gallon of water. Campfires must be attended at all times and completely extinguished prior to leaving. Remember: "If it is too hot to touch, it is too hot to leave."
While campfires are still allowed in Wilderness Areas, year-around restrictions in the Eagle Cap Wilderness prohibit campfires within 100 feet of any lakes or posted wetlands. Campfires are also prohibited within ¼ mile (1320 feet) of the lakes listed on the back of Eagle Cap Wilderness permits.
As a reminder, year-around campfire restrictions also apply to the Hells Canyon National Recreation Area within a ¼ mile of the Wild and Scenic portions of the Snake River, from Hells Canyon Dam downstream to the Oregon-Washington border.
Public lands in Idaho follow separate Idaho Fire Restrictions.
Generators are allowed only if fully contained in the bed of a pickup truck or in an area that has been cleared of all flammable material at least 10 feet away. Other internal combustion engines are prohibited, except for motor vehicles.
Wood stoves and briquette fires are not permitted.
Motor vehicle travel off developed forest roads and trails is not allowed due to the risk of a vehicle sparking a wildfire in the dry grass and roadside vegetation. Exception: Vehicles may be used to access campsites located within 300 feet of an open developed road. All motorized travel on roads closed by gates, barricades, berms, rocks, or logs is prohibited.
Fireworks are always prohibited on public lands.
Phase B PURs prohibit chainsaw use without a permit, and even with a permit, chainsaw use is not currently allowed under IFPL 4.
Remember, "Only you can prevent wildfires!" With tinder-dry forest fuels and high daytime temperatures, conditions are prime for human-caused wildfires. We ask everyone to be extremely careful with campfires. Please be vigilant with other ignition sources too: It just takes one spark from an unsecured chain while towing a trailer, or from a flat tire with an exposed wheel or hubcap.
Separate restrictions may be in effect on State and private lands protected by Oregon Department of Forestry (ODF) in northeast Oregon. For more information, contact your local ODF office or visit the Blue Mountain Interagency Dispatch Center website (http://www.bmidc.org).
To learn more, contact your local Forest Service office or visit our website (www.fs.usda.gov/wallowa-whitman).