It is officially summer and the season for exploring the byway is fully underway. The Forest Service 39 Road is open, providing amazing views in every direction, access to the Hells Canyon Overlook, and closing the loop between Pine Valley, Halfway and the shores of the Snake River (and all of the recreation activities the river offers) with the Wallowa Valley communities, Wallowa Lake, Hat Point and on to La Grande. Or, take Highway 3 north from Enterprise to Lewiston, Idaho.
In Northeast Oregon, summer and fall are packed with special events that celebrate the personality and history of each community. Special interest groups gather for car shows, motorcycle rallies, cycling events, rodeos and star-gazing. Go to the site's Visitor Resources page and check out the calendars of events for each of the chambers of commerce. You are certain to find events that appeal to your interests.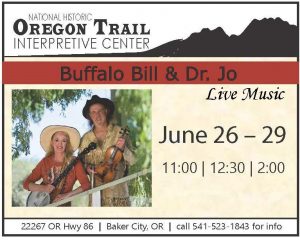 The National Historic Oregon Trail Interpretive Center near Baker City offers entertainment and events of its own throughout the year. Coming to the center June 26 through 29 is musical duo Bill Boycott and Joanne Orr, who perform as Buffalo Bill and Dr. Jo.  This Lander, Wyoming, couple tours around the west, sharing the legacy of traditional and folk music, as well as original compositions and stories about the west – pioneers, cowboys, Native Americans, and the railroads. The couple uses vocals, guitar, banjo, mandolin, and fiddle. Their performance titled "Along the Oregon Trail" includes multi-media, as well as a program on Indian Sign Language. Known for their outstanding vocal harmonies, they won a Western Music Association Harmony Duo Award. Bill has also won awards for his traditional western style yodeling.
Buffalo Bill & Dr. Jo perform each day at 11 a.m., 12:30 p.m. and 2 p.m., through Saturday, June 29.