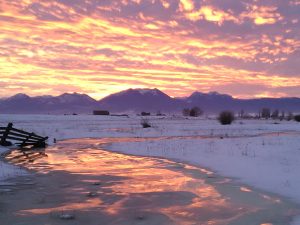 The holiday season is just around the corner and we want to help ensure you have safe and enjoyable travels. Winter in our corner of Oregon is beautiful! But, for the Hells Canyon Scenic Byway, winter means the closure of the Forest Service Road 39, which is the pass that connects Baker County at the South end of the byway with Wallowa County and its communities and attractions at the north end. That doesn't mean any of the towns along the byway are closed or inaccessible. Quite the contrary! Their travel services are open and ready to serve you all along Oregon State Highways 82 and 86, Interstate 84, and many other state and county roads. But the ability to complete the loop is postponed, often until Memorial Day weekend.
Regardless of where you are traveling in Northeast Oregon throughout winter, please slow down and drive for the conditions. Remember, even the "low" elevation areas of Northeast Oregon are just barely under 3000′, and no matter which direction you are traveling, you are going to go over a mountain pass. Just be prepared. The Oregon Department of Transportation always provides some great tips for this time of year. Here is their recent press release from Region 5, District 13:
Possible snow in forecast – gear up for winter driving challenges
November 22, 2019
For more information, contact Tom Strandberg 541-963-1330,  Thomas.m.strandberg@odot.state.or.us
LA GRANDE, Ore. – Travelers should be ready for hazardous travel conditions next week, with the possibility of slick, ice or snow covered roads. The National Weather Service issued a forecast that includes a chance for snow on Sunday and next week.
Frozen fog and ice contributed to several crashes on Interstate 84 west of Pendleton earlier today.
ODOT maintenance crews are staffed up for winter, with snow removal equipment being deployed where needed. Motorists are reminded to prepare for challenging travel conditions by getting their vehicles ready and keeping winter safety in mind.
"Thanksgiving is one of the busiest times for travel," said ODOT District 13 Manager Ace Clark. "We will have crews on the highways day and night plowing snow, applying sand, salt and deicer as appropriate, and monitoring conditions. Please plan extra travel time, be prepared for winter weather and drive according to conditions of the road. We want everyone to get to their destination safely."
Watch for winter construction activities that are continuing along I-84 east of La Grande in the Ladd Canyon area. The downhill westbound freeway between mileposts 272 and 270 will remain limited to one lane due to ongoing construction through mid-to-late December. Both of the eastbound lanes heading up the hill are open.
ODOT urges motorists to drive for the inclement weather by slowing down and turning off cruise controls. Travelers should check road and weather conditions at TripCheck.com before getting behind the wheel. Links to winter driving safety tips are also available on this site under the "Road and Weather" tab. Just open the "Winter Travel" and "Winter Driving Safety" drop down menus where you'll find helpful messages. Here are a few to keep in mind:
Be ready to use your chains. Be patient. Go slowly.
Turn off cruise control. Never use cruise control in wet, icy, snowy or slippery conditions.
Expect a long commute that could last hours. You never know when weather or traffic incidents will cause the road to be closed for extended periods.
Along with snow and slick conditions, expect visibility to be limited.
Make sure your wipers, headlights, turn signals, heater, etc. are in good working order.
Keep fuel tank full (in case you get stuck in road closure).
Keep cell phone charged.
Avoid following GPS navigation directions onto remote or unfamiliar roadways if detoured off of the main highway. Many non-highway routes are not maintained during winter.
Carry emergency supplies (water, food, warm clothes, flashlight, etc.)
Increase the following distance between you and the vehicle ahead of you.
Use extra caution and keep safety in mind when installing tire chains along the side of the roadway. Other drivers may not be able to see you clearly.
Drive according to conditions of the road, regardless of posted speed limits.
Keep a watch on weather conditions throughout the day in anticipation of the next snow storm which could make current road conditions worse.
At the end of your trip, wash off your vehicle to remove mud, snow, road salt and deicer residue.
Know Before You Go: Call 5-1-1 or visit www.TripCheck.com for the latest real-time traffic updates and camera views of Oregon's highways. Outside of Oregon, travelers can call 503-588-2941.