La Grande, Oregon __Now is a great time for driving country roads and seeking out fresh fruit and vegetables directly from growers. Eastern Oregon has developed a series of self-guided farm trails that lead directly to farm stands, gardens and orchards, for the freshest farm products available. Start with the Union County Farm Loop or work your way through the Whisky & Rocks Farm Loop, River to Hills Farm Trail, Four Rivers Farm Trail, and John Day River Food Trail as you travel throughout the region. Check out the Wallowa Country Barn Tour, as well, for drop-dead scenery and photo opportunities. Find maps and information for all these trails at www.visiteasternoregon.com.
Start the scenic Union County Farm Loop at Avella Orchard, 2807 N. Fir Street, La Grande. Begun in the 1950s, the 2-acre orchard within the city limits boasts over 250 unusual, rare and local pioneer fruit and nut trees. Tours by arrangement. www.avellaorchard.blogspot.com
Next stop is Evergreen Family Farm, 62402 Evergreen Road, La Grande, where the whole family uses organic practices to grow vegetables, fruit and cut flowers. You can also find them at the La Grande Farmers Market, Saturday mornings in downtown La Grande.
Head north of La Grande on Hunter Road to find Mount Emily Farmstead, where Hanoverion horses compete for your attention with eggs, goat milk, sauerkraut, native plants and flowers, dried herbs, garlic and garden produce. Call 541.786.6015 before visiting to ensure the farmers are available.
Cross the broad and fertile Grande Ronde Valley and wind along the base of the mountains to pass the location of the annual Pick'N Patch. Open all of October, under bright blue skies, Frisch Farms' invites you to explore the corn maze and choose from a huge selection of pumpkins and fall décor to take home and enjoy. The corn maze can be seen from the road in various stages throughout summer. www.facebook.com/PickNPatchfarm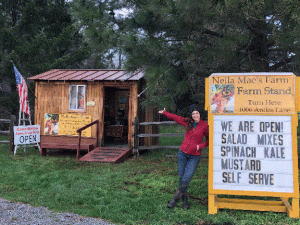 Union County Farm Loop map 2020 digital
You've found your way to Cove, a sleepy little town that stretches its arms up the steep sides of Mt. Fanny and is best known for sweet cherries. There are six farm stands to visit here, with products ranging from garlic ristras to honey, garden greens to local fruits, vegetables, eggs, raw goat milk, flowers and fruit preserves. Bring a cooler so you can stock up! Nella Mae's Farm Stand is open 24/7 and self-serve. Almosta Farm welcomes visitors and lodgers to their guest rental year-round – just contact them in advance. Contact the other farms for their hours and days or to arrange a visit.
Owners of Apple Spring Micro Farm in Cove say they love having children visit. "Our alpacas are friendly, our gardens are beautiful, our spring fed stream is clean water…all neat things for kids to explore!" says Dana Dobbs. Visitors also find delicious freshly baked treats, fruits and veggies picked that morning, and a special take away item for the kids!
If you call in advance, you can arrange a tour of the Grande Ronde Goat Dairy, between the towns of Cove and Union. This dairy milks around 800 does, using a rotary milking system, and sends its milk to California to be made into gourmet cheese you can find in your supermarket or specialty food store. There are often adorable goat kids to cuddle during tours. This is a working dairy, so please call or text before you visit: 541.805.9622.
In Union, stop by Platz Family Farm stand and fill the rest of the cooler with fruit, eggs and vegetables from the large, well organized garden and greenhouse. You will also find locally made crafts, jams and jellies and frozen beef from just down the road. Open Monday, Wednesday and Friday, 10 a.m. to 6 p.m., late May through October. www.platzfamilyfarm.com 
Just across the highway is Cat's Paw Mercantile, an easy to spot little white building with pink trim, flowers and a big metal horse in the parking lot. It's filled with colorful and fragrant goat milk soaps, lotions and pet potions, small-batch sauces and salsas and much more. Most of the products are made from ingredients produced at the on-site farm. Take time to giggle at the gaggle of domestic geese and watch the goats at play. www.catspawfarm.com
Still want more time down on the farm? Prearrange a visit with "Babydoll Southdown" sheep and learn about felting wool at Ladd View Ranch, www.laddviewbabydollsheep.com or tour a beef cattle operation at Boothman Ranch (call or text 541.962.9287 to tour), both on Hot Lake Lane.
Back in downtown La Grande, stop at Community Merchants to stock the freezer with local beef, pork, lamb and chicken, or pick up a souvenir from a local artist or craft maker. Treat yourself with gelato ice cream, made on-site. www.facebook.com/CommunityMerchants 
Click to view and download the Union County Farm Loop map 2020 digital.